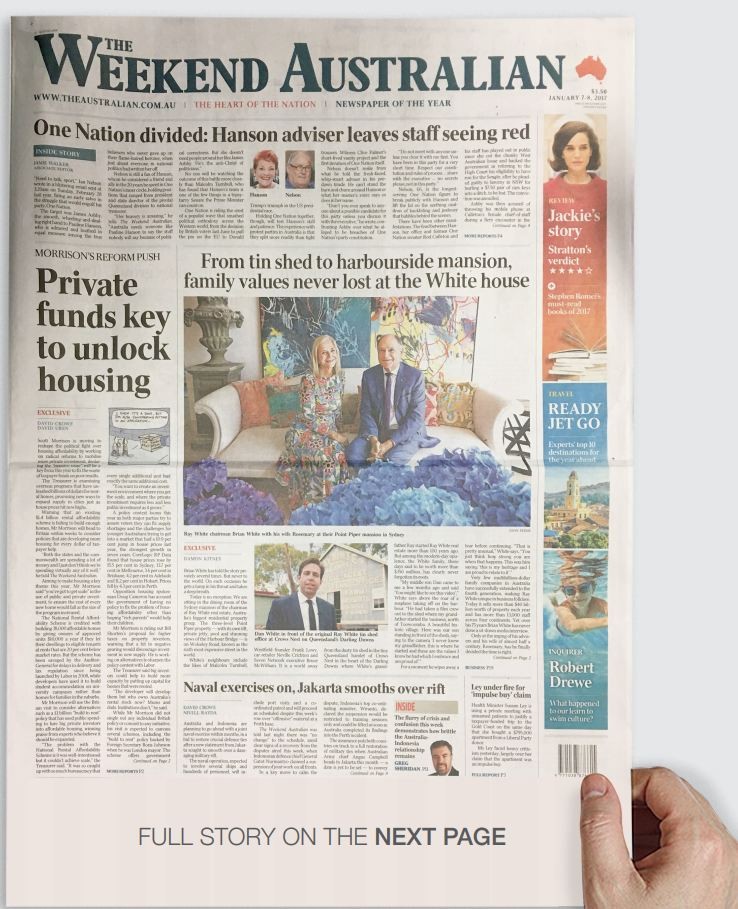 First published in The Australian, 7 January 2017
BRIAN WHITE has told the story privately several times. But never to the world. On each occasion he gets a lump in his throat and takes a deep breath.
Today is no exception. We are sitting in the dining room of the Sydney mansion of the chairman of Ray White real estate, Australia's biggest residential property group. The three-level Point Piper property — with its own lift, private jetty, pool and stunning views of the Harbour Bridge — is on Wolseley Road, known as the sixth most expensive street in the world.

White's neighbours include the likes of Malcolm Turnbull, Westfield founder Frank Lowy, car retailer Neville Crichton and Seven Network executive Bruce McWilliam. It is a world away from the dusty tin shed in the tiny Queensland hamlet of Crows Nest in the heart of the Darling Downs where White's grandfather Ray started Ray White real estate more than 100 years ago. But among the modern-day opulence, the White family, these days said to be worth more than $350 million, has clearly never forgotten its roots.
"My middle son Dan came to me a few months ago and said 'You might like to see this video'," White says above the roar of a seaplane taking off on the harbour. "He had taken a film crew out to the shed where my grandfather started the business, north of ­Toowoomba. A beautiful historic village. Here was our son standing in front of the sheds, saying to the camera 'I never knew my ­grandfather, this is where he started and these are the values I know he had which I embrace and am proud of'."
For a moment he wipes away a tear before continuing. "That is pretty unusual," White says. "You just think how strong you are when that happens. This was him saying 'this is my heritage and I am proud to relate to it'."
Very few multibillion-dollar family companies in Australia have successfully extended to the fourth generation, making Ray White unique in business folklore. Today it sells more than $40 billion worth of property each year and has more than 13,000 staff across four continents. Yet over his 75 years Brian White has never done a sit-down media interview.
Only at the urging of his advisers and his wife of almost half a century, Rosemary, has he finally decided the time is right.
"It is terribly important. I wanted­ him to do it several times," says his immaculately dressed wife, who today sits across the table from her husband. "Brian tends to talk about the generations before him — his grandfather and his father — and then he says nothing about from him to now," she says before fixing him with a glare and adding: "You don't ever give that sense of what you have done."
White says he regrets the fact the story of his own father, Alan, who passed away in 2007, was never told. And he wants to remind the public of the importance of family business to the Australian economy.
In 2015 the Ray White Group was named the inaugural winner of the Family Business Award at the Ernst & Young Entrepreneur of the Year Awards and last year it made the accounting firm's list of the top 50 family businesses in the world. It was the only Australian firm to make the cut.
This year it will attend an invite-only World Economic Forum event in Davos, Switzerland, for top international family business leaders consulting on the world economy. "A huge number of our businesses (the franchisees) are now family businesses. The depth of this family thing is far, far stronger than people realise," White says. "A lot of people say there is no difference between a family business and a public entity. I now know that is not true."
Andrew Bell, who has been with Ray White since the early 80s and owns the lucrative Ray White Surfers Paradise group, says his chairman has grown to appreciate and understand the legacy of the company.
"In the past 10-15 years he has seriously appreciated the need to ensure the culture is understood and the family tradition is well rooted in the company," Bell says.
Each of Brian White's sons now has key roles in the business: Dan running commercial real estate, franchise operations and boutique funds management; Sam overseeing the mortgage broking business that settles about $2bn a month in loans; and Ben the property man­agement. Brian's brother Paul is a joint chairman and oversees Ray White Rural. One of his children is also now ­involved in that business.
Dan, who joined the company following a three-year stint with Macquarie Bank's Property Investment Management Division, says he goes back to Crows Nest regularly. "To be there and imagining what it would have been like a century ago is humbling in its own way," he says.
"To me that helps me keep my feet on the ground and to realise what has come before me. If I am leading the business I want it to be better than the generation before. It is a fairly desolate sort of place now. But I wanted to capture it for our members. You can touch and feel this thing. I really cherish it for the group."
Dan, who now has three children of his own, says the most ­important teaching of his father was to "find your own answers".
"His great gift to me in being a father has been letting people find that," he says. "He has never ever told me to do anything. That is a great gift to give your children."
He also greatly values the contribution of his mother to the business. Rosemary White — or Rosie, as her husband calls her — started the first training course for real estate agents in Australia in the late 1970s. She has been a champion of women in the profession and in business more generally.
Jack Cowin, the founder and owner of the Hungry Jacks fast food chain, a director of Fairfax Media and Ten Network and a close friend and neighbour of the Whites in Point Piper, calls Brian White a "renaissance man".
"Brian is a versatile, well-rounded person with a variety of talents," he says. "And where most 75-year-old guys are thinking about retirement, he is thinking about the next 25."
Brian still attends the Harvard Business School in the US for a week each year to help him plan for the future.
Cowin also has enormous regard and respect for Rosemary White, especially for the work she has done in empowering women. He even has his own first-hand account of her success.
"Rosemary has changed my life because she ran a school for wives on female assertiveness which mine attended," he quips.
The Whites know what it is like to have gone to the brink and survived. Brian may now love surfing off Sumatra and taking regular tennis lessons, but when Ray White expanded into what he calls "the southern states" in the late 1980s, he mortgaged his own properties to fund it. He took up the piano in his 30s and played Chopin in the evenings for respite during his toughest moments.
"When you have stress and financial stress and a bank manager walking through your house uninvited, the stress of surviving in the business takes over anything else," Rosemary says of their 48-year bond. "But when you get through those things you feel closer together. I am glad I was married in the early stages so we could go through that together rather than meeting him later when it had all happened. You get a sense of belonging together when you do these things."
She says the story of Ray White isn't glamorous; it is simply a testament to persistence paying off.
"So much in financial news is lauding people who have made money by selling things and rich investment bankers and that sort of stuff," Rosemary says.
"That is all very well and good. But a lot of people are grinding away, year in, year out, making a profit some year and not others. And a lot of franchisees are like that. This is what life in business is all about. It's the grind and the day-to-day and not letting go and not being smug."
But the Whites are now clearly wealthy. They have been on and off the BRW Rich List (they both wish they stayed off it) and have a property at Noosa in addition to the Point Piper extravagance.
They have come a long way from the shack in the Brisbane suburb of Woolloongabba they paid $5000 for soon after they were married. Asked if he is conscious of his wealth, Brian replies cautiously. "I don't think so. Our lifestyle hasn't changed much. We still just do the things we want to," he says, before his wife quips flippantly: "Well, we live in a better house!"
Pressed on the issue, she says quietly: "I do like having nice dresses and not having to worry. The things you had to watch when you were young you don't have to watch now. When you are expanding upon your cashflow, there are a lot of hairy times on the way. I don't miss the hairy times like that. But I guess if you had to you would do it all again."
Brian worries wealth can have a perverse effect on the human condition. "It can deprive people of ambition," he says. "But I think all our three sons are really ambitious. They got the opportunity to pursue those ambitions … They are quite different and have different approaches to ambition."
He feels for rich parents who feel they have to shower buckets of money on their children.
"You think you want to give your kids such that they don't have to worry about anything; well that is a poisoned chalice," he says. "The fact that our three sons have got opportunities to develop and show significant skills, I have no apology for that."
DAMON KITNEY
Victorian Business Editor